Breakfast is a very important meal. Don't miss it. Even if you are late for school/work, you can still eat something on the way. The most important thing is to eat!
Breakfast, a very important meal!
Eat your breakfast! Even if it's a small banana or an apple – still better than nothing. You must realize that when you sleep, you body is actually "starving" for about 8 hours. If you have problems sleeping please check this article on what to do if you can't sleep at night.
If you miss your morning breakfast you only make things worse and you let your body starve some more. And starving is not good for you body and your metabolism – it will slow down. Slow metabolism means a slower digestion and a slower digestion means less calories burnt during the day. Read about how many calories should I eat to lose weight?
That could potentially mean that you will eventually start to gain weight. That is if you are not regularly working out (jogging, exercising in the gym…). So, how to make things right? Eat in the morning. Get up 5 minutes earlier and do something for your body. 5 minutes is not that much, is it?
If you don't eat breakfast you will slow down your
metabolism
. That means a slower digestion and a slower digestion means less calories burnt during the day. That could potentially mean that you will eventually start to gain weight.
Healthy food for breakfast
Which is healthy food for breakfast? We offer you below some very simple, yet very healthy ideas for a quick breakfast. There are unlimited options when it comes to preparing a healthy breakfast. We have prepared 3 great ideas for you! Do take a look.
Fruit smoothie
A healthy smoothie is always a good choice! Here's how you make one. Mix a pint/2dcl of milk (preferably soy, rice or other milk alternative), strawberries and banana with a blender to form a smoothie.
You can also use low fat yogurt, or the one that does not contain as much sugar as classic fruit yogurt. Do not forget the healthy fats, so put in the mix some flax seeds too.
You have a lot of choice when it comes to home-made smoothies, because you can mix fruit and vegetables that you like best – or you can simply use those that are in your fridge right now. If you think that preparing smoothies still takes too long, you can mix your smoothie the night before and store in a sealed container in the refrigerator.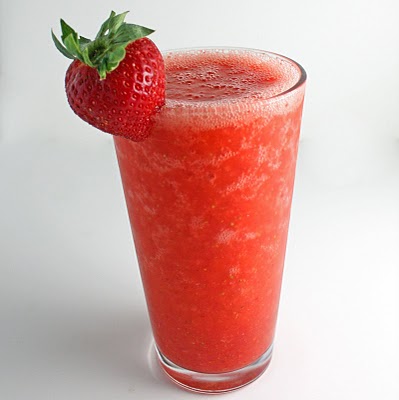 "A healthy breakfast – smoothie. Prepared in under 5 minutes!"
Cooked cereals
Oat flakes are an excellent choice because they contain a lot of calcium, iron and magnesium. They are an excellent source of energy, which you need throughout the day, they regulate digestion and stimulate the secretion of water.
Mix oatmeal in a pint/2dcl of milk and cook the milk until is properly heated. During cooking, add a teaspoon of honey. When the milk mixed with flakes is heated, pour it in a cup and add one sliced ​​banana or strawberries. Or even both.
You can throw in a handful of nuts as well – to get the healthy omega 3 fat. Of course you can also replace the oatmeal with any other that you like.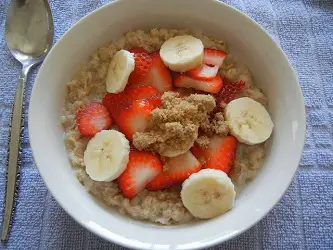 "A healthy breakfast – oatmeal with banana and strawberry. Also, you can pour in a spoon of honey. Prepared in under 5 minutes! Too delicious!"
Whole wheat toast
Buy whole grain toast without added preservatives and keep it in the refrigerator in a sealed container. For breakfast quickly fry the toast on both sides, so that the bread becomes warm. If you have enough time, you can fry it to become golden brown.
Coat it with peanut butter (best to use peanut butter that is organically grown and with no added sugar and salt). Decorate it with sliced ​​bananas and, if desired, sprinkle the top with cinnamon. You can also pour a teaspoon of honey over it.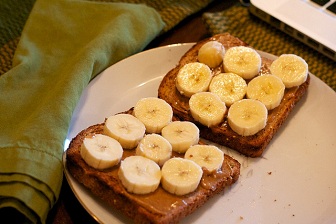 "A healthy breakfast – toast with banana and cinnamon. Easily prepared in under 3 minutes! Yummey!"
We hope you find these breakfast ideas helpful. Remember, breakfast is very important! Don't leave your body starving. Do something healthy for your body – start in the morning! If you have an idea of healthy breakfast of your own, please write it in the comments section below.