For people with diabetes a healthy diet that includes a few additional rules is recommended.
Avoid sugar and sugary foods, avoid fizzy drinks with added sugar, white flour and foods that include a lot of saturated fat.
What is diabetes?
Generally speaking, there are two types of diabetes – type 1 and type 2 diabetes. Type 1 usually affects younger people (under the age of 30) whereas type 2 usually affects older people. About 90% of people with diabetes are type 2, which is, in some aspects, a lesser form of diabetes.
Other types of diabetes are much rarer and include gestational diabetes, congenital diabetes, which is due to genetic defects of insulin secretion, cystic fibrosis-related diabetes, steroid diabetes induced by high doses of glucocorticoids, and several forms of monogenic diabetes.
Diabetes type 2 is a metabolic disease where pancreas cannot produce enough insulin in order to regulate blood sugar levels (blood glucose levels) effectively, resulting in dangerous fluctuations of blood sugar levels.
Diabetes type 1 is a condition where pancreas cannot produce insulin anymore. This is due to auto-immune system mistakenly destroying beta cells found in pancreas. These beta cells produce insulin. Scientists and medical doctors are still looking for an explanation as to why immune system would attack beta-cells and render a person diabetic.
Patients with type 1 are totally depended on insulin that is injected to blood stream with a needle or an insulin pump. Patients with type 2 diabetes are not insulin depended in early stages of diabetes but may become insulin depended in late stages of diabetes.
For patients with diabetes type 2 it is extremely important to eat proper food and avoid carbohydrates as much as possible. Doing so patients can regulate blood sugar levels quite effectively.
Read more about diabetes here.
How should a diabetic diet look like?
Patients with diabetes are advised not to consume sugar, sugary foods and drinks, white flour and high-fat foods. Each meal should contain vegetables or fruits.
A proper and healthy diet will have a positive impact on:
If your blood sugar levels are increased for a longer period of time and no action is taken to lower blood sugar levels you may suffer permanent damage. This includes:
Eye damage: retinopathy – eye defects which may lead to formation of cataracts and blindness.
Kidney damage: nephropathy – renal failure over time.
Damage to nervous system: polyneuropathy – tingling, pain, loss of sense of touch and leg pain. Also possible outcomes are impotence and digestion problems.
Damage to cardiovascular system: accelerated atherosclerosis – angina pectoris, heart and brain stroke, vascular occlusions.
Problems with feet: formation of wounds that do not heal and lead to amputation of toes, feet, or whole limb.
Immune system disorders: urinary tract infections, fungal infections, lowered immunity.
How to adjust your eating habits after you have been diagnosed?
If you have been diagnosed with diabetes you should adjust your diet as follows.
Several times a day eat vegetables and fruit – either fresh, cooked or stewed. If possible always choose home grown fruits and vegetables over imported ones.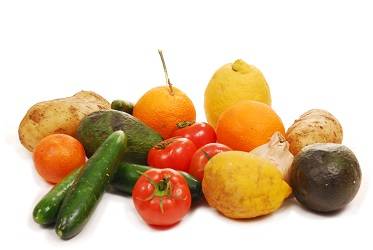 Fruits and vegetables should be on your menu each day.
Enjoy low-fat foods and avoid the use of animal fat (saturated fat). Switch from using saturated fat to using unsaturated fat. Prepare food mainly by boiling or baking – with minimal use of fat.
Choose low-fat meat and low-fat meat products. Before preparing a meat try to remove all visible fat from it. Always enjoy skimmed milk and milk products with lower fat percentage.
Overuse of salt in your diet may lead to high blood pressure. The more salt you consume the higher your blood pressure. Never put additional salt on your food and avoid products that contain a lot of salt.
Lower the consumption of alcohol to a bare minimum. A glass of (dry) wine with lunch or dinner is acceptable, heavy drinking is not.
You can also drink one to two cups of coffee (no added sugar or cream) a day. You can sweeten your coffee with artificial sweeteners and you can add a little skimmed milk.
Above guidelines are pretty strict and sometimes it is hard to follow them all. Occasional minor or slight deviation from the principles of a healthy diet (although not recommended) will not do permanent damage. Constantly breaking the rules of a diabetic diet though can seriously harm you and worsen your condition!
With a proper diet you will reduce and maintain appropriate body weight. Increased body weight (being moderately overweight or obese) is a major risk factor for cardiovascular disease, stroke, increased blood pressure and increased blood sugar levels.
In order to lose weight a reduced energy intake is required. This means you should consume less calories than you can burn per day.
Read an article on how many calories should I eat to lose weight to find out more about proper weight loss.
Conclusion
Moderation is the key. Always eat at your maintenance rate. Find out what your basal metabolic rate is and try to adapt your diet according to your BMR.
You can calculate your BMR using our BMR calculator. If ever in doubt regarding your diet you should consult a dietitian and / or your personal doctor.