Kiwi is a fruit
rich in vitamins
and has many
health benefits, such as lowering cholesterol levels and boosting immune system
. Kiwi is named after the native bird of New Zealand with the same name. It originated in China. Kiwi is particularly popular in winter time when we are even more dependent on high doses of vitamins.
Is kiwi really that healthy?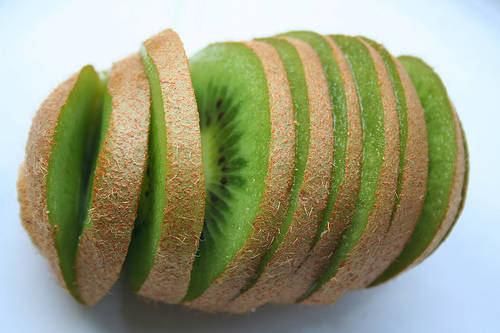 Kiwi has many health benefits as it contains a lot of vitamins and minerals. It also lowers cholesterol levels.
At first glance, kiwi looks like a rather unapealing fruit. But there is more to kiwi than needs the eye as kiwi is packed with vitamin C! One kiwi covers all your daily requirement for vitamin C and more. An average kiwi has more than 90mg of vitamin C per 100g of weight.
There's more to kiwi than needs the eye!
Inside green-brown shell there is a delicious bright green or golden flesh with black, eatable seeds. The taste can be compared to a mixture of gooseberries, melons and strawberries.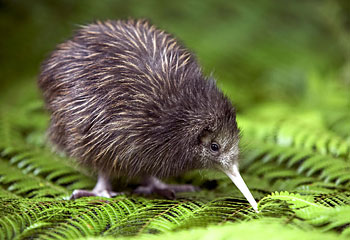 Kiwi fruit got its name after this little bird that lives in New Zealand.
We usually eat kiwi raw and without the skin, but it can also be an ingredient in different fruit salads or as an extra to desserts, salads, cheese plates. We can make jam, compote or juice out of kiwi, so it is definitely a multi-purpose fruit.
Kiwi fruit contains actinidin enzyme that dissolves the protein, so you should be using the fruit in the diet carefully. For example dishes containing cream, kiwi should be added at the very end, as the milk curdles if we put kiwi in earlier. The effect of enzyme is lost if peeled kiwi is put in hot water for a few minutes. Kiwi also can never be mixed with gelatine as gelatine does not harden.
Kiwi nutrition data
Kiwi fruit is a very rich source of vitamin C and also contains vitamins A and vitamin E. Kiwi is packed with minerals too (especially potassium). Raw kiwi fruit contains an enzyme actinidin that may cause some people to get allergie (especially people who are allergic to latex, pineapple and papaya).
Health benefits of kiwi
Kiwi has many health benefits as it boosts the immune system, strengthens blood vessels and connective tissue. It also contains a lot of magnesium and in combination with vitamin C stimulates the muscles, especially the heart. Kiwi also degrades cholesterol levels and improves the blood circulation.
Consume kiwi every day
Kiwi's peel, which is a good source of antioxidants, is easily removed – cut the fruit in half and then scoop out the flesh with a spoon. When is kiwi good for eating? When you press your finger the skin should gently break. Kiwi fruit should be stored in a cool place, away from other fruits. Kiwi can be kept outside the refrigerator for several weeks.
Bon appetit.
Keywords: kiwi health benefits, health benefits of kiwi, kiwi healthy, health, kiwi
Related posts:
What is raw food?
The fact that raw food is healthy is not an invention of modern medicine. Our ancestors already knew that. In fact, fresh food was the only food they knew. Raw food diet consis...
Chewing food more can help you lose weight
Is it true that if you want your body to digest food efficiently you need to chew it more? When can we say that the food is well chewed? Read this article to find out. Keywords:...
Essential Minerals: Are You Getting What You Need?
Minerals are essential nutrients that your body needs every day, but cannot produce by itself. Just like omega 3 fatty acids. For your organism to function properly an adequate...