Want to write for us?
Updated: 16th of January, 2017
Healthiack.com is accepting guest posts. We are looking for quality and fresh content that would benefit our readers. Publishing fee applies.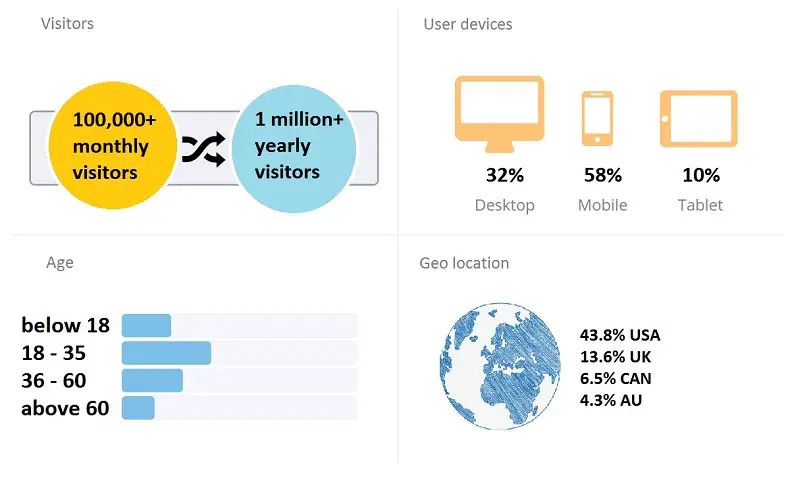 Website stats:
See traffic and GEO statistics!
See traffic sources!
Source: google analytics
More than 5,000 page views per day; more than 150,000 page views per month.
Most of the traffic is organic.
Traffic mostly from USA, UK, AUSTRALIA, CANADA, GERMANY, … aged 21 – 64, male and female, college educated.
510+ RSS Feed subscribers.
3800+ Facebook fans.
2900+ email subscribers.
There are certain content and quality guidelines you need to follow if you want your article to be published on our site.
Content guidelines
We are only accepting guest posts in following categories:
-general health
-diseases
-weight loss
-diets
-sport
-fitness
-beauty
-healthy foods.
Quality guidelines
We are only accepting guest posts that meet the following quality criteria:
-length of at least 600 words
-unique, relevant and fresh content (not published elsewhere)
-proper grammar.
Article structure guidelines
The structure of the article should be as follows:
-intro (few words)
-main content (main discussion – at least 3 paragraphs)
-outro (summary)
-author bio (optional)
-possible references / image references (optional).
Please do not submit "5 general tips to lose weight" kind of articles, Internet is already stuffed with those.
We reserve the right to deny publishing of articles that do not meet above guidelines!
Once you submit an article to healthiack.com it becomes the property of healthiack.com.
We reserve the right to edit the article content before publishing.
Send your inquiry
Please email all your inquiries using the form below.
NOTE: you have to accept content, quality and structure guidelines as stated above before sending email.
___________________________________

Contact us now
We will get back to you in 1 – 3 business days.