Nutritious smoothie
Nutritious smoothie is calorie rich. It is best prior to exercising or when you are physically active.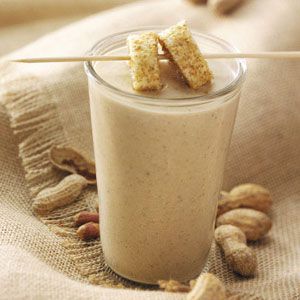 General data:
4.5 stars based on 31 reviews
Prep time:
Total time:
Nutrition data:
Yield: 1 serving
Serving size: 1 big glass
Calories per serving: 700
Fat per serving: 29g
Ingredients:
Banana: 1
Whole grain biscuits: 4
Wallnuts: 30g / 1oz
Almonds: 30g / 1oz
Dark chocolate: 15g / 0.5oz
Low fat yogurth: 2 dcl / 6.8 oz
Instructions:
Cut the banana into smaller pieces. Put it in the blender along with yogurth, walnuts, almonds, whole grain biscuits and dark chocolate. Mix them altogether. You've just prepared a strong smoothie of over 700 calories. Enjoy it. Then go burn this calories.
Take a look at our other smoothies too: Healthy smoothies list