Mixed fruit and vegetable smoothie
Mixed smoothie consists of fruits and vegetables. Get all the vitamins you need.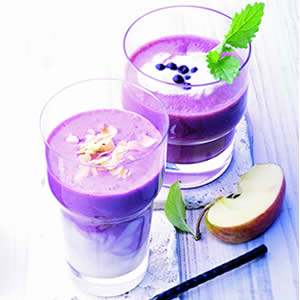 General data:
4.7 stars based on 31 reviews
Prep time:
Total time:
Nutrition data:
Yield: 1 serving
Serving size: 1 big glass
Calories per serving: 300
Fat per serving: 10g
Ingredients:
Apple: 1
Carrot: 1
Kiwi: 1
Banana: 1
Peach: 1
Low fat yogurth: 2 dcl / 6.8 oz
Instructions:
Wash the fruit and vegetables. Cut and peel all the ingredients in small pieces. Put all the stuff in the blender. On top of that, pour inside 2dcl / 6.8 oz of yogurth. Mix it until it is ready. Pour your smoothie into the glass. With this smoothie you will get all the vitamins you need for the day.
Take a look at our other smoothies too: Healthy smoothies list