Delicious smoothie
Delicious smoothie is really tasty. It is a perfect mix.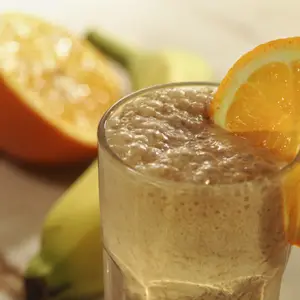 General data:
5 stars based on 32 reviews
Prep time:
Total time:
Nutrition data:
Yield: 1 serving
Serving size: 1 big glass
Calories per serving: 300
Fat per serving: 19g
Ingredients:
Banana: 1
Strawberry: 10
Grapes: 30g / 1oz
Dark chocolate: 15g / 0.5oz
Low fat yogurth: 2 dcl / 6.8 oz
Instructions:
Cut all the fruits into smaller pieces. Put it in the blender along with yogurth and dark chocolate. Mix them well. Finally, pour your delicious smoothie into a glass and enjoy it. You can also put some ice cubes into such smoothie.