What comes to mind when you think of the color purple? If you suddenly thought of royalty, then you already know a bit about the history of this interesting color.
But do you know how to properly fit it into your wardrobe? That's a bit on the tricky side. In this article, we will explore a bit of the history of purple and share with you seven practical ways to add more of this color to your clothes closet.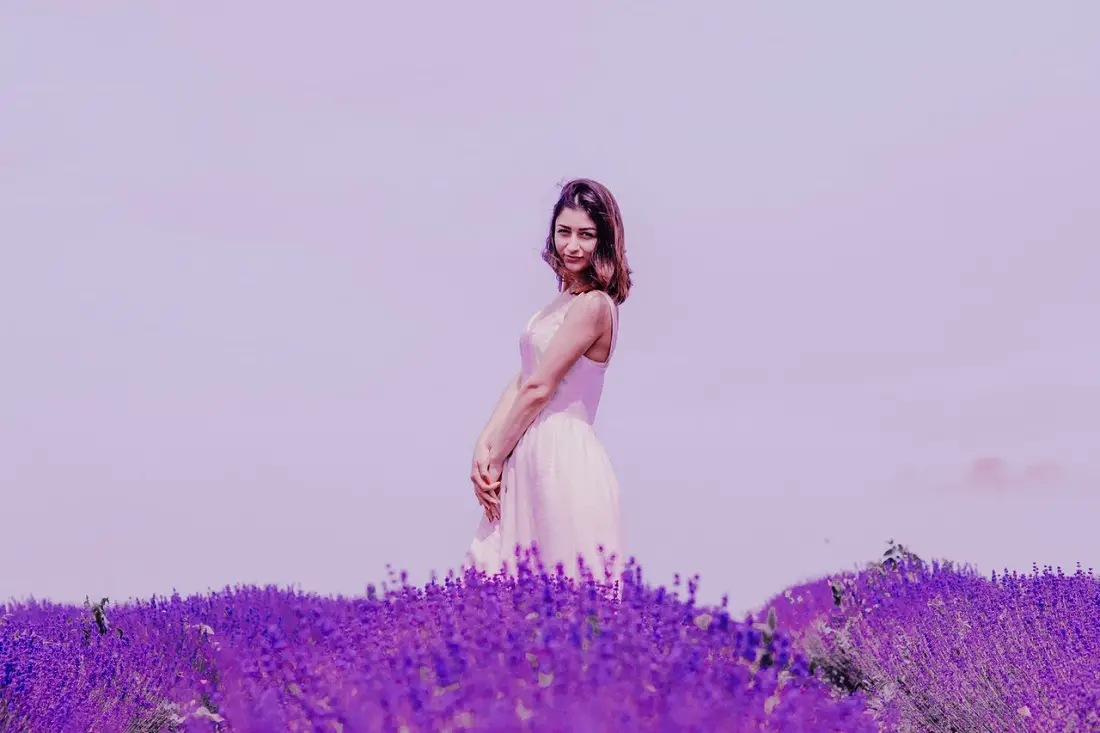 You just may discover you can wear purple in many ways that had not occurred to you.
A Short History of Purple
Purple is the word used to describe any of the colors that fall between red and blue and is closely associated with the color violet. The connection with royalty comes quite naturally to purple. Phoenician purple dye was quite expensive when it was created and only the rich could afford to purchase it.
Royal subjects could wear purple and thus present an easy visual clue for who was of that stature.  Purple was also worn by magistrates in Rome and it soon became the imperial color worn by rulers during the Byzantine Empire and the Holy Roman Empire.  It was later adopted as the color worn by Roman Catholic bishops. In Japan, purple is also associated with royalty. In today's world, the color purple has many meanings in the United States and Europe. It continues to be connected to royalty but also has ties to magic, mystery, and piety. When purple is combined with pink, it has associations with seduction, femininity, and eroticism.
Principles for Wearing Purple
Purple in clothing is usually considered a bright or unusual color.  Fashion sense dictates that it should be matched with contrasting colors but only in muted hues.  For example, a navy tie that contains purple stripes would go well with a dark grey suit.  If you can imagine that combination, you can see how the purple gets toned down enough to work with the navy and grey. Purple socks are a completely different story. Add to those socks beige pants and brown suede shoes and now you are looking sharp.
But what if you intend to just wear a single purple item?  It is a bit—brave and comes with a fair amount of risk. You don't want the presence of purple to make the rest of your outfit look silly. But if you wear purple alongside beige, gray, or navy, you can probably pull it off and perhaps lead your own fashion trend!
How to Work Purple into your Wardrobe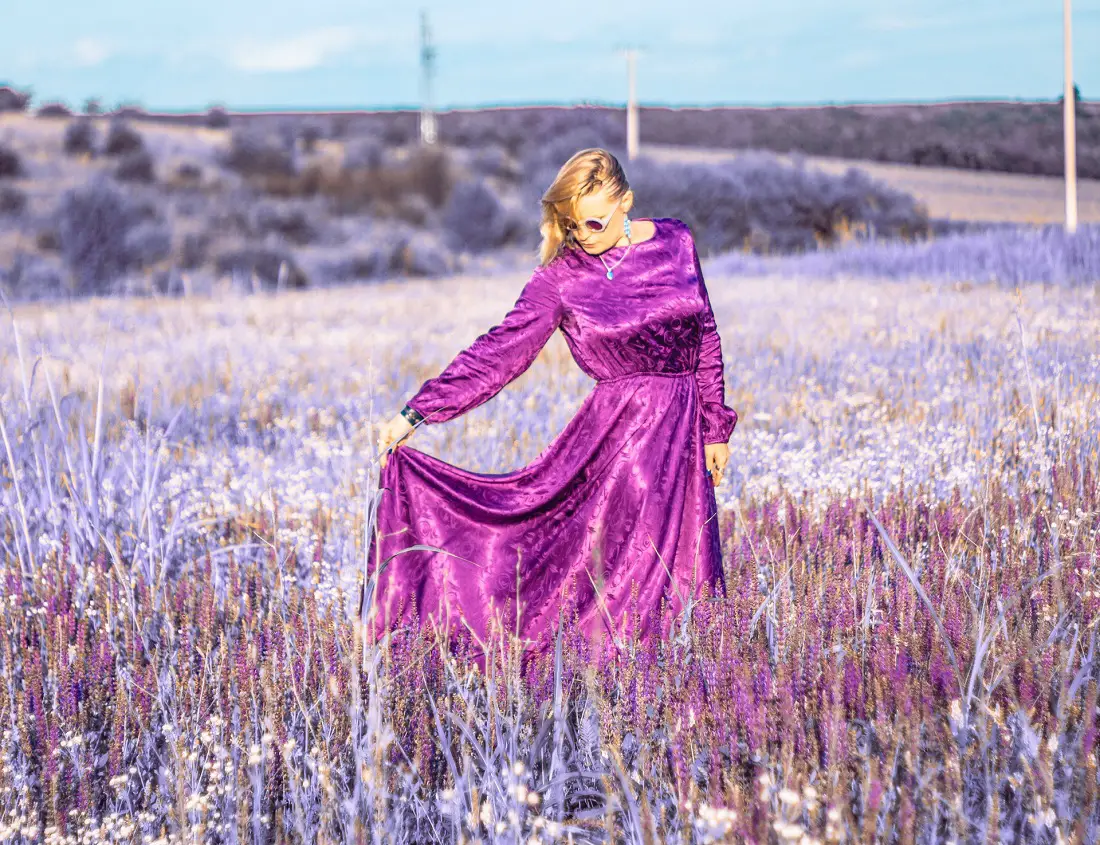 You can slip the royal color into many outfits you wear. Below, we take a closer look at seven of those tricks and explain exactly how to do it.
The Easiest Way – Use Accessories
1 – Add a Dash of Color with Purple Flowers
It couldn't get any simpler than this. If you are trying to add purple to an existing outfit, you can give it a bit of splash without overpowering the wardrobe by adding a purple boutonniere.
2 – Tie it up with Purple Shoelaces
If you are not brave enough to choose a purple flower, you can still get that color into your wardrobe by using a less obvious method: purple shoelaces.  Believe it or not, this will still work without overpowering an outfit.
The shoelaces will get attention, but only as an indicator of a fun-loving nature.
3 – Wrap it Around Your Neck with a Purple Tie
If you are truly brave enough, you can plant purple front and center in your outfit with a tie. You can test the waters with a necktie (or even a bowtie) with purple in it or you can just throw caution to the wind and go with a solid purple tie.
4 – Consider a Pair of Purple Socks
Purple works well with green and if you don't want the focus on your ankles and footwear, a pair of purple socks with green accents will do just nicely. Or you could just go with bold purple. For example, a pair of purple argyle socks can offer a nice, elevated look. No Cold Feet's guide has more suggestions about this.
The Advanced Way – Larger Clothing Items
If accessories are not your thing, you can still get purple into your wardrobe following the adage of "go big or go home." Here are a few examples of how you can put purple into the forefront of your outfit and still fit into the fashion landscape.
5 – Burst onto the Scene with a Purple Jacket
Nothing quite says, "Hey, I'm here!" quite like a purple jacket. However, unless your plan is to get noticed wherever you are, don't wear one. Always keep in mind that your top layer will get noticed first.
If you are attempting to blend into a crowd, a purple jacket is not the correct choice.
6 – Walk, Don't Run With Purple Trousers
You have a couple of distinct choices here. If you pick a pair of pants that are in the grape-colored end of the purple spectrum, you may come across as a bit arrogant or, the opposite end of the spectrum, clownish.
Unless one of these is your goal, stick to the maroon end of the purple spectrum for greater safety.
7 – Blow Everyone Away with a Purple Suit
If purple just happens to be your favorite color, you can cover all bases from head to toe with a purple suit. Sadly, this one is probably the most difficult to pull off without ending up looking like The Joker from the popular Batman series of comic books and movies.
If you want to try this you absolutely must have the perfect shade of purple for your skin tone, body shape, setting and personality. It can be done, but it isn't easy.
In Conclusion
Feeling regal? Purple is the color that can help you with that. Purple can take a bit of work to fit into a wardrobe, but it is possible.  Just be mindful of which end of the purple spectrum works best for you, pay attention to the other colors you wear and build from there. Accessories are a good place to start.
If you wish to go beyond that, we have offered some advanced suggestions. Don't be afraid of purple, just use it correctly and you'll be fine.