Back pain can be quite debilitating, to the extent that at instances even changing sides become tough-to-attain challenge.
You were probably given advice on various different remedies for this back pain – exercise, rest, yoga, natural remedies and of course over-the-counter pain medications (muscle relaxants, topical creams and NSAIDs).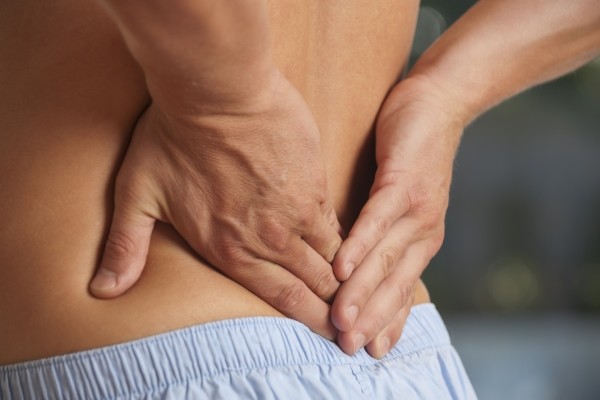 Back pain; image source: healthiack.com
Has anyone ever suggested Aromatherapy to you? It might work for you.
What could be causing your back pain?
Back pain can have a number of causes:
Muscle spasms due to injury.
Tensed muscles in the back.
Inflammation in the back area due to injury or strain.
Sore muscle from over-exertion.
Stress could also be contributing to tensed muscles causing back pain.
But, all these problems can be tackled effectively using Aromatherapy.
Find out how Aromatherapy can alleviate these problems
Different Essential Oils that can Manage your Back Pain are the following.
Chamomile – controls spasms, reduces inflammation and relieves pain.
Clary Sage – anti-inflammatory, anti-spasmodic and soothes tensed muscles in the back. But contraindicated for pregnant women.
Yarrow – anti-spasmodic and anti-inflammatory.
Ginger – Analgesic properties and can also increase mobility.
Frankincense – mild sedative effects, and also anti-inflammatory.
Peppermint – relieves tension and soreness in the muscles.
Eucalyptus – anti-microbial and anti-inflammatory.
Rosemary – anti-spasmodic and analgesic.
Lavender – anti-spasmodic, anti-inflammatory and stress-relieving.
Blends that can be Beneficial in Back Pain
Massage oil recipes
Recipe #1:
Sweet oil – 1 tablespoon
Cardamom – 4 drops
Wintergreen – 4 drops
Ginger oil – 4 drops
Recipe #2:
Sweet Marjoram – 1 drop
Roman Chamomile – 1 drop
Lavender – 3 drops
Carrier oil – 20ml
Recipe #3:
Lavender – 10 drops
Sandalwood – 6 drops
Rosemary – 6 drops
Geranium – 3 drops
Almond oil – 2 tablespoons
When using Aromatherapy for back pain, the methods you can try are:
Inhaling
Warm water and aroma oil baths
Massaging the area with aroma oil blends
So, why don't you give this natural and holistic method a shot?