You might have heard about bobs. But do you ever ask yourself the distinctions that exist between different bob styles? What is an inverted bob? What differentiates it from an A-line bob? The prime difference is in their technique of styling these two bobs.
An inverted bob is styled by having stacked layers at the back and creating a curved line up to the front. If you want, you can allow the frontal tresses to cascade to the shoulders, to make a super statement.
For more information, we have researched and listed some excellent ideas on inverted bob. Feel inspired if you want a low maintenance, yet modern hairstyle.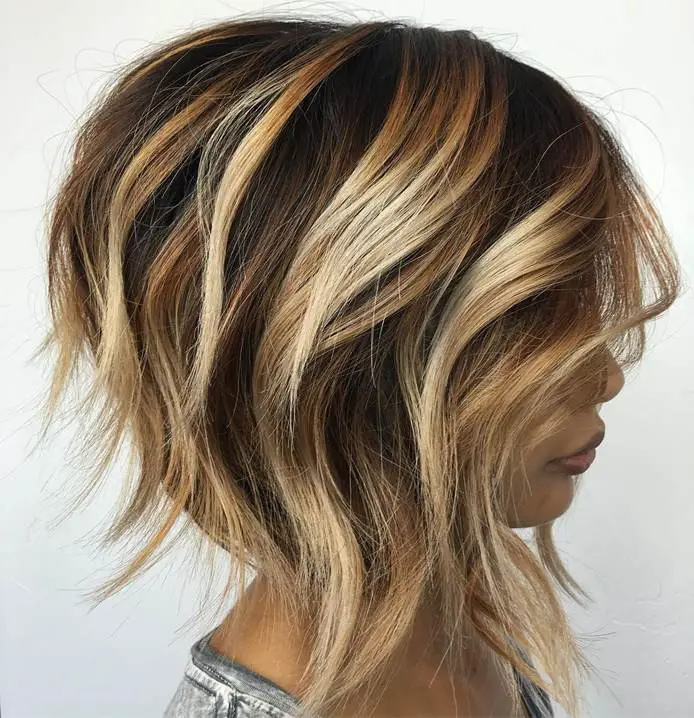 1. Shaggy Inverted Bob
The back of this bob is what makes ladies want to wear it throughout the year. It is simple to style. Go messily sophisticated, add some texturizer to get some wet look and rock the enjoyable days out during the summer with it.
2. Choppy Pointed Bob for Straight Hair.
The swing inverted bob is suitable for the ladies with naturally thick hair. The layers are crucial because they tame the volume and accentuate the lustrous look of the straight tresses. The teased crown and the darker roots bring the look together with its dimension and depth.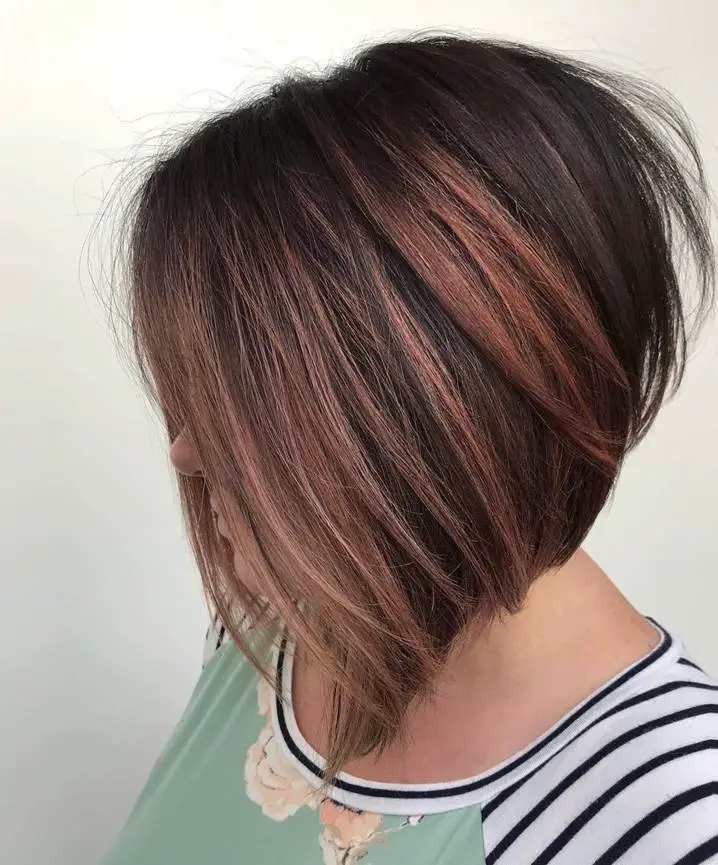 3. Long Inverted Bob with Layers.
Can you imagine how layers can make the bob look? They work like magic with long hair since all the feathered layers highlight your facial features perfectly. As an added advantage, this is an effortless style to maintain for long hair that is past your jawline.
4. Wavy Bob for Fine Hair
When your inverted bob is worn out, and you are busy to make an appointment with your hairstylist, one of the perfect ways to enhance volume is incorporating curls. A curly texture gives you an instant result with more thickness and fullness.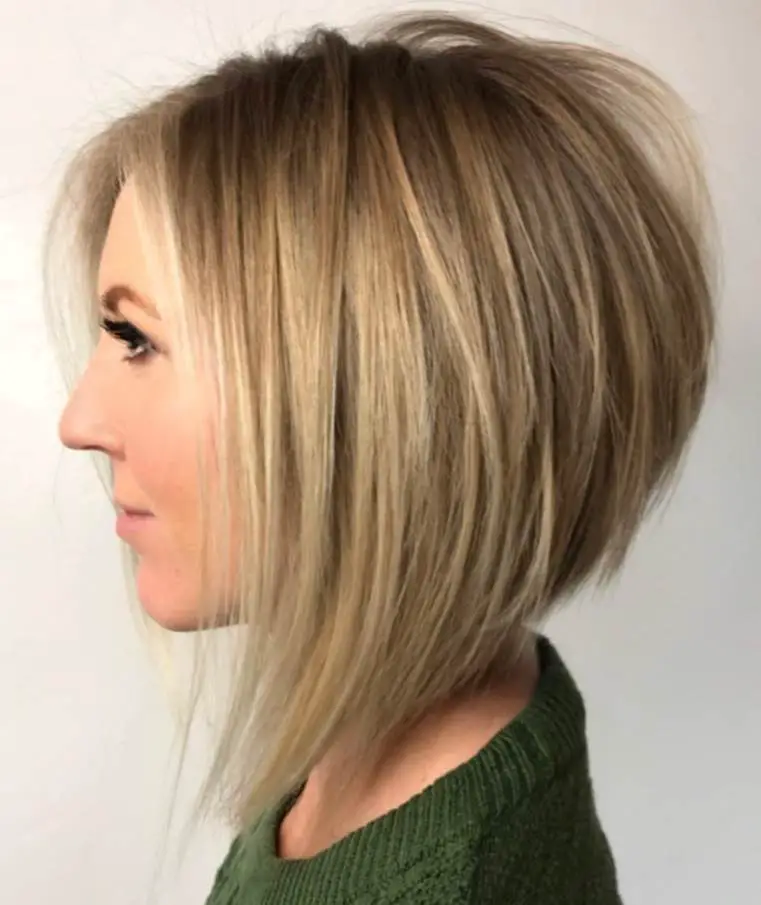 5. Two-Toned Stacked Bob
Looking for a bold haircut? Try matching in pairs two -contrast shades together from the colour spectrum of natural hair hues. Platinum blonde and dark brown is a perfect combination. The beautiful way the tresses cascades with an angled bob gorgeously shows off the colour combo as well.
6. Elegant Stacked Bob with Blonde Balayage
The long-inverted bob is a stunning choice when finally, your short hair begins to grow out. You achieve a collar-sweeping appearance of extended tresses along with effortless maintenance of the short cut. In case you are looking for a hairstyle with an enhanced dimension, a blonde balayage is an excellent choice.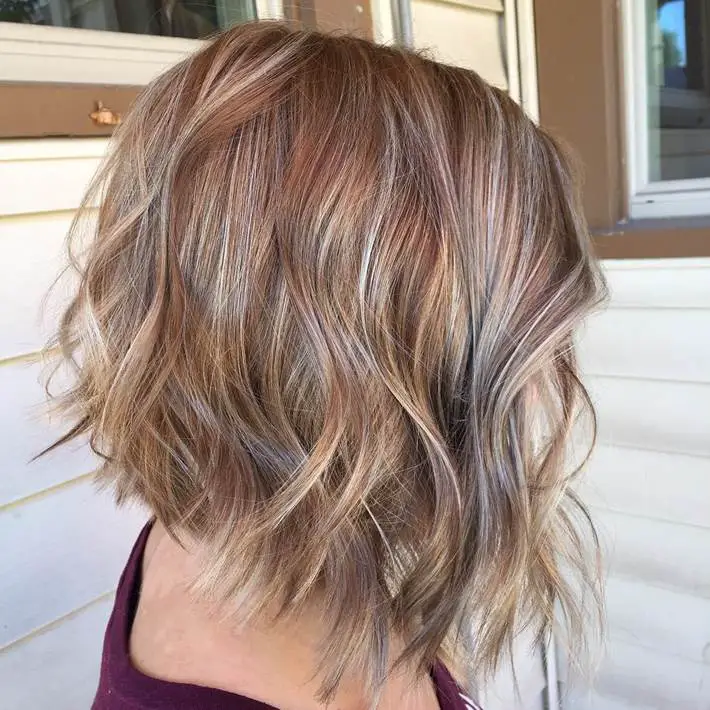 7. Lush Inverted Bob Haircut
This bob is suitable for fine hair since style boosts volume. To achieve this look, you need to have medium length tresses as a base for the hairstyle, plus a bit of bravery for a dramatically angled baseline that this look proudly features.
8. Jagged Caramel Bob with Blonde Tips
Short haircuts with waves often show off as cutest that than chic. A cool caramel balayage. However, ensures you get a cool and stylish vibe. Lightly curly ends finish the hairstyle with texture and movement.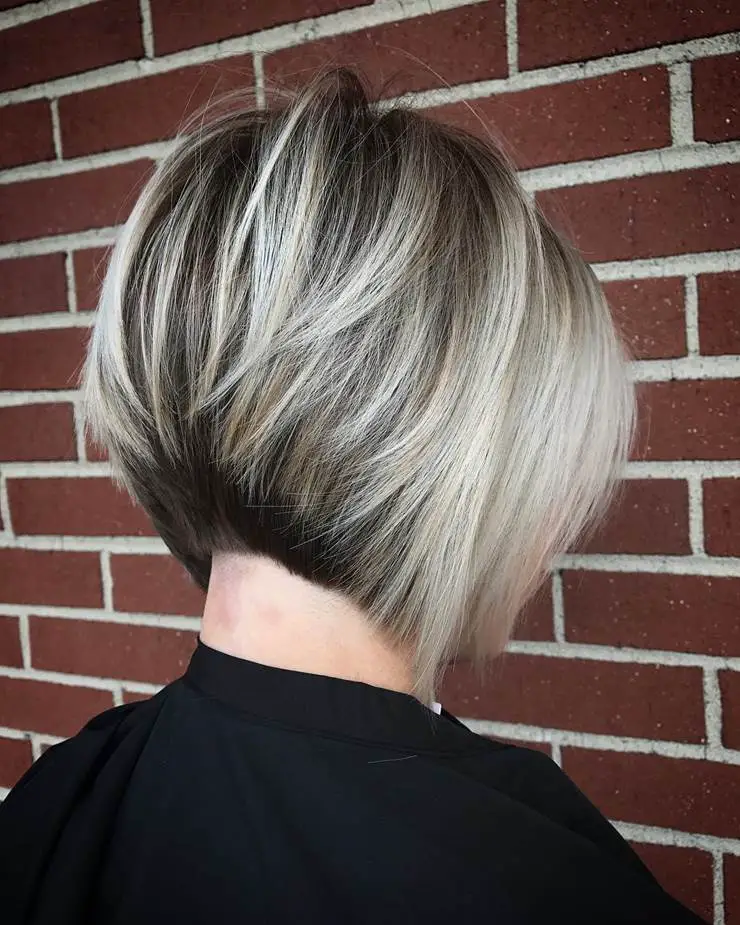 9. Shattered Bob with Inventive Colouring
This cute inverted bob is a very common haircut. To give yours a special feature, experiment it with varying combos of hues and tones. The unanticipated paring of this bob gives it a refreshing palette.
10. Collarbone Haircut with Stacked Back
Bobs are famous for their classic appeal. If you want to modernise your bob, there are many natural ways to achieve that. Shadow base can instantly promote your bob. The back layers will match the dimension that the black roots initiate.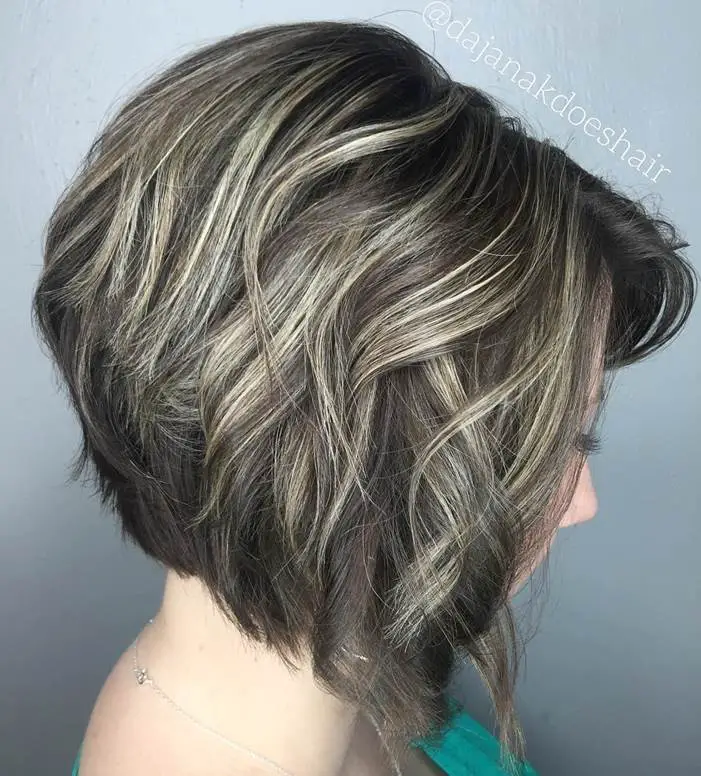 11. Voluminous Short Haircut
Ladies who have faith in bigger hair will find this inverted bob perfect. The chin-length haircut has significant volume. It is the right cut to make a substantial impact. However, the shades remain conservative.
12. Streamlined Caramel Blonde Bob
Inverted bob with beautiful bangs is always an excellent choice. Go for highlights to boost that streamlined look. Besides, the A-line cut reveals a modern vibe. The medium-length look as this is an ideal bob to go for when you are feeling chic, and you don't want to let down your ounce of style.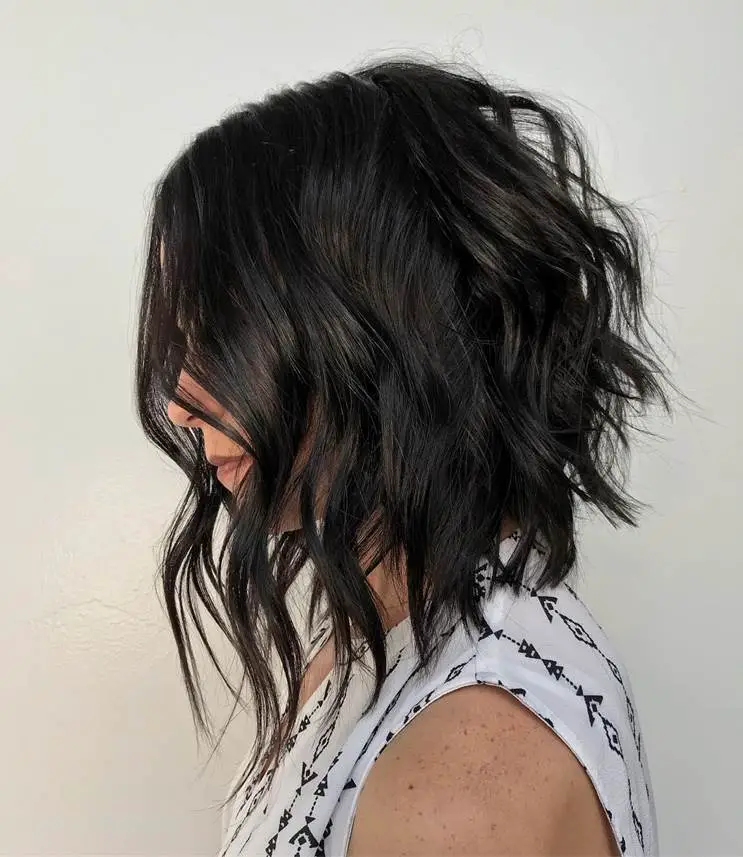 13. Inverted Cut for Brunettes
This is a perfect style if you want a business-casual look, but it will also take you on a night out, in your most sexy mini. Bear in mind that the side parting in this haircut is one of the great inverted bob haircuts for women with round faces, as it frames the face perfectly.
14. Loose and Curly Hair
Bob hairstyles are known for being too tomboyish and severe, but the current inverted bobs haircuts couldn't be too far from the reality. If you fear to lose your femininity by getting a bob cut, choose a loose and curly style that allows much room for softness.
15. Asymmetrical Razored Dark Bob
If you want an edgy feel, tell your stylist to employ the razor technique to come up with the choppy and vibrant cut. To take the drama to the next level, use jet dark dye. All the unique components of this bob come together to come up with something totally badass.
16. Blown Back Blonde
A naturally dark hair doesn't necessarily have to be dyed in blacks and browns. Rather, you can opt for vibrant colours and experiment with blonde shades. Complement it with tousled layers and style it backward, and you will get a fierce, fresh new look.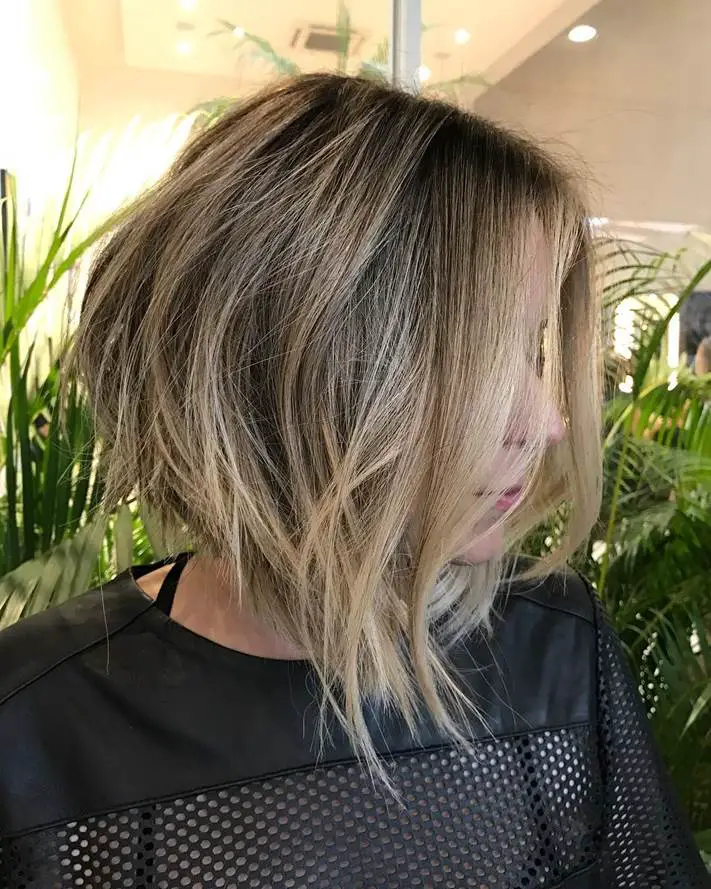 17. Uneven Inverted Blonde Bob
Sometimes inconsistencies are what make haircuts perfect, as in this reverse bob. The mixture of hues and wispy flyways all come together to give a stunning final effect to this cut. The intentional messy style concludes this alluring modern look.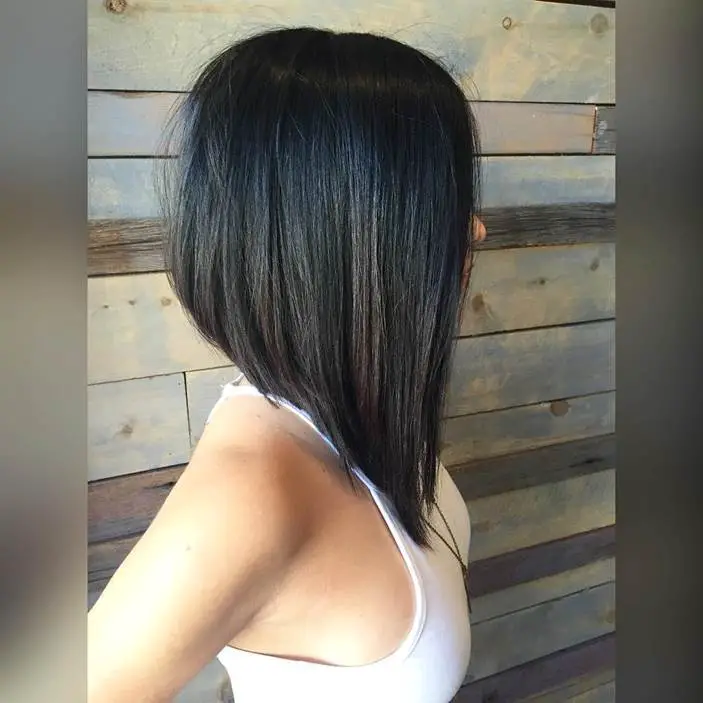 18. Purple Grey Curls
Highlight those wild natural waves with a style that really reveals texture and colour. Adhere to your natural colour or opt for a bold purple grey colour that looks great on most skin tones.