Are you sick of tan lines? Over undoing your straps and untying your halter top just so you can avoid an uneven tan?
Well, you're not going to believe this, but there are actually bikinis on the market designed to fix this problem. You don't have to visit a nude beach to get the even tan you're looking for.
They're called "tan through bikinis" or "tan thru bikinis" and they seriously rule.
Tan through bikinis are specifically created to help get a tan without worrying about pale spots and line issues. These swimsuits allow much more sun exposure, so even if you end up with a little bit of tan line, it won't be as dramatic as that night/day effect of a very obvious tan line.
If you're new to this genius invention of the lineless swimsuit, let us start you off with the 10 best tan through bikinis you can find online that vary in price, style, and design.
Solar Tan Thru Paisley Bikini
Our first on the list is the Solar Tan Thru Paisley Bikini set from SwimOutlet (promo codes here and here). Paisley has made its way back into fashion and this bikini represents the print well.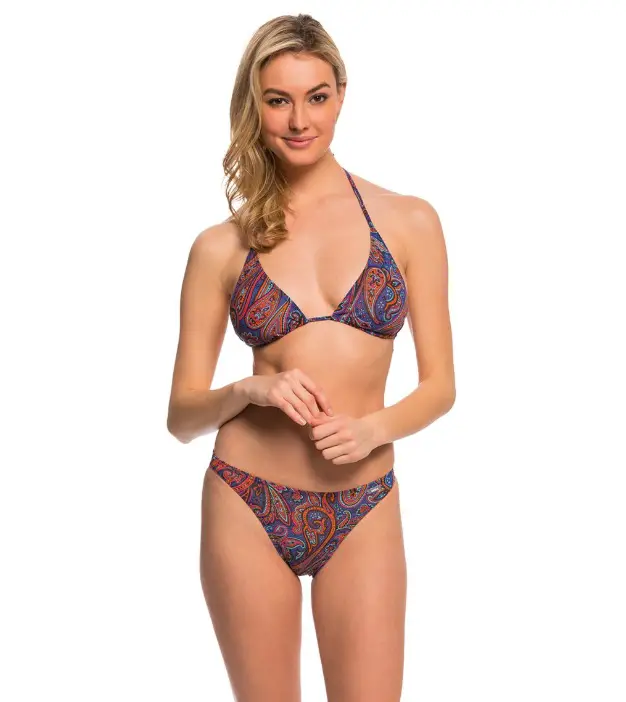 This bikini allows sun to enter, so you don't have to worry as much about annoying tan streaks.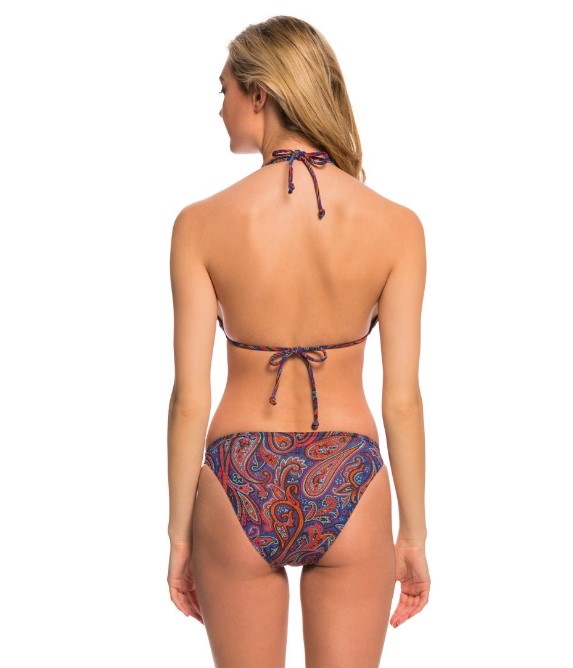 Find that all-over tan in a cute stretchy two-piece swimsuit that is comfortable as well as in style.
Solar Tan Thru Missoni Gold Bikini
If you're more into the laid back vibe, this tie-dye inspired gold bikini may be the one you should be sporting this summer.
The Solar Tan Thru Missoni Gold Bikini, also from SwimOutlet, is a nice choice for someone who wants to exhibit a carefree attitude. The hippie-chic look is always in.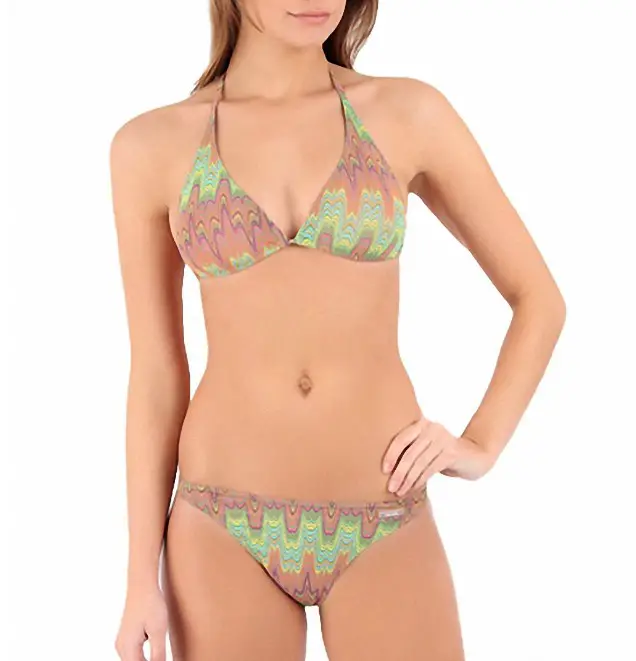 The sun will permeate through the fabric, so enjoy the sun and don't worry about it leaving you with strange lines when you wear other outfits.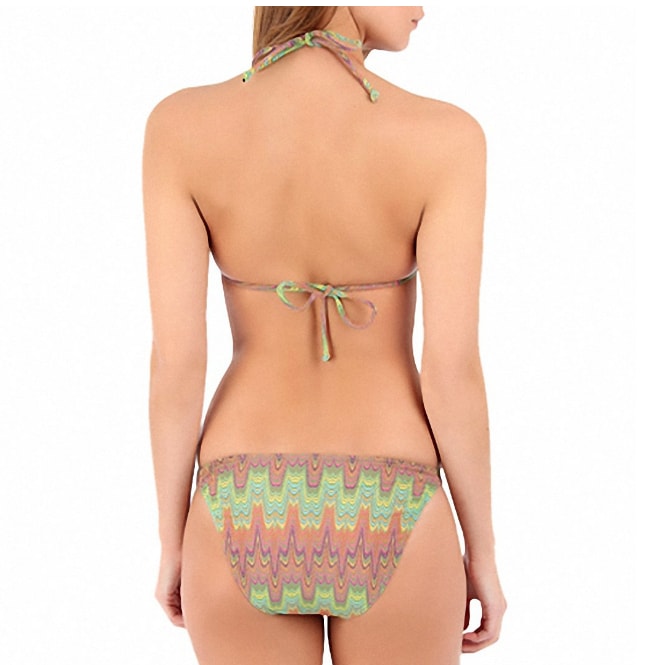 Bonita Tan Through Bikini
The next on our list is the Bonita Tan Through Bikini set. Sold in two pieces (top and bottom) from Kiniki (codes here and here), it's a cute choice for at the beach tanning and laying out.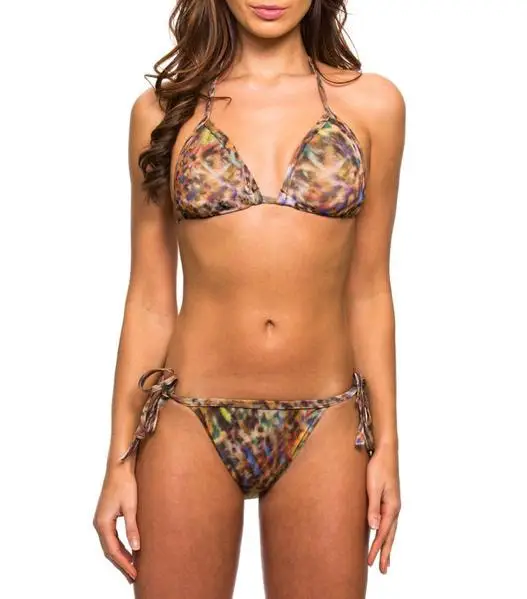 Shaped in the classic triangle top and string side bikini bottoms, it's described as "timeless" and "versatile." Bask in the sun without a care in the world. The tan through fabric will help you become goden as if you were laying in a tanning bed.
Botany Bandeau Bikini
Another beautiful Kiniki choice is the Botany Bandeau Bikini.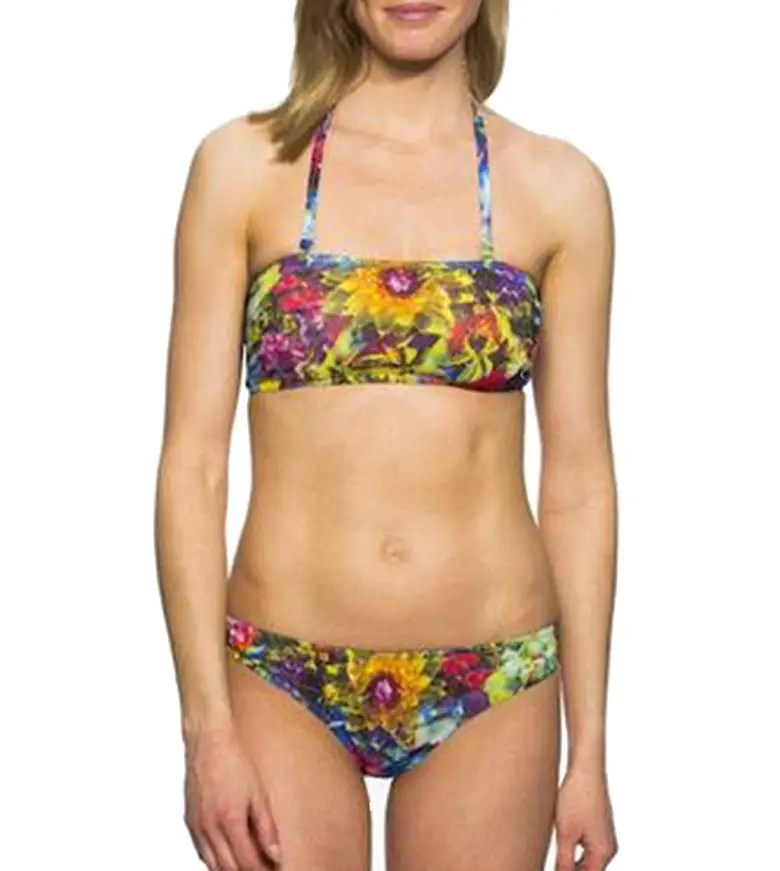 This bikini looks like it came straight out of the 90's and that is such a cool thing now that the 90's are fully back in style.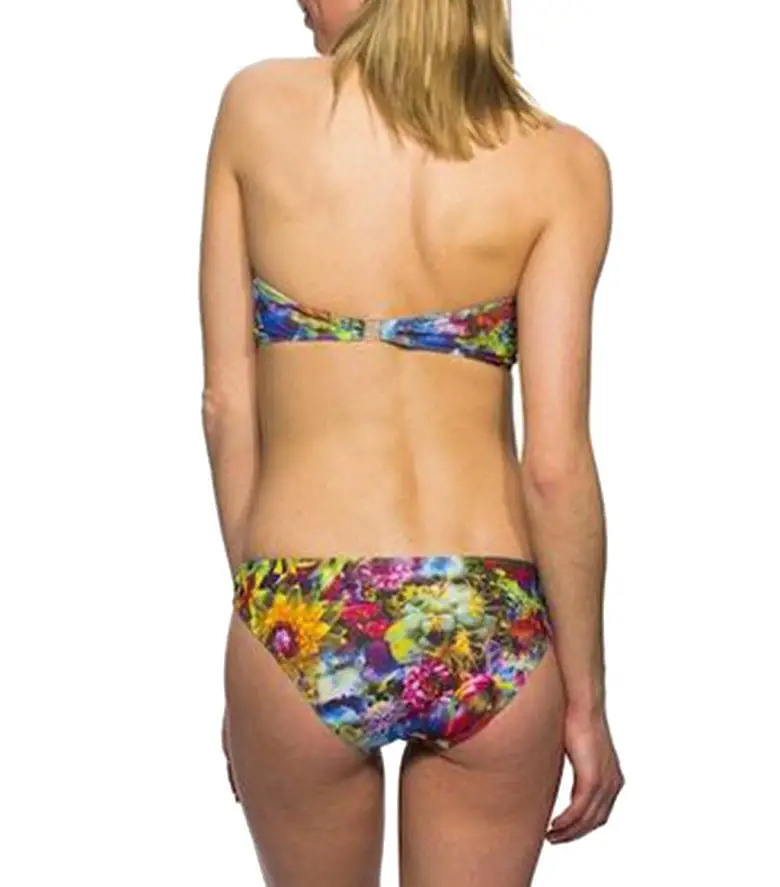 The all over floral in purples, yellows, and blues are the signature vintage look everyone is donning right now.
Solid Black Tan Through
You can tan through a solid black bikini? That's right.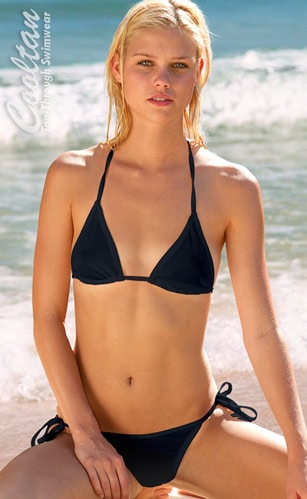 The Cooltan Tan Through Black Bikini from CoolTan (discount codes here and here) is your standard black string bikini but technologically advanced enough for you not to worry about tan lines.
Get a tan as fast as if you were wearing nothing but medium strength SPF. The "secret" is Microsol® and MicrosolV which are newly designed lightweight fabrics that let sun through without appearing transparent.
Emerald Tan Through Bikini
This gorgeous lush green bikini is another effective choice for achieving a great even tan.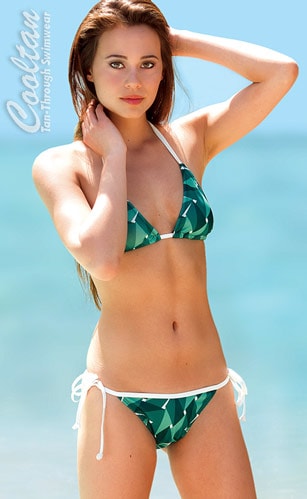 Deep green and stark white make such a complimenting pair of shades. As another Cooltan product, this swimsuit is made of fabric that lets sun in evenly. The material Cooltan uses in this bikini is lightweight and it keep you cool through hot weather.
Direct Tan Through Halter Bikini
In a beautiful floral design, this halter top style bikini from Amazon (coupon codes here and here) is a tan through swimsuit that looks great and keeps you looking great by reducing tan lines.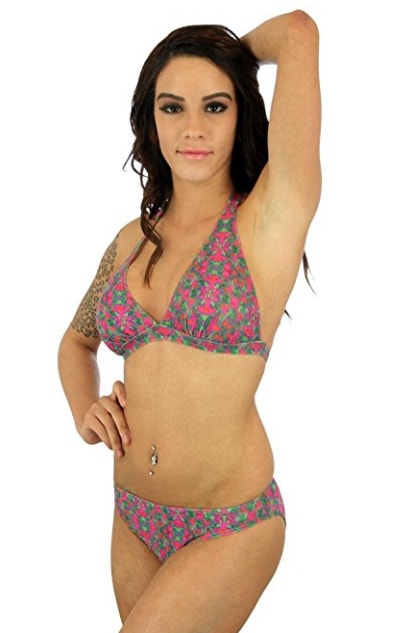 This fabulous Amazon only Lifestyles Direct find will make sure you stay lineless. The materials are snag resistant and fully sun permeable.
Tan Thru Underwire Bikini
This next bikini comes directly from the Lifestyles Direct website and is the only underwire bikini on the list.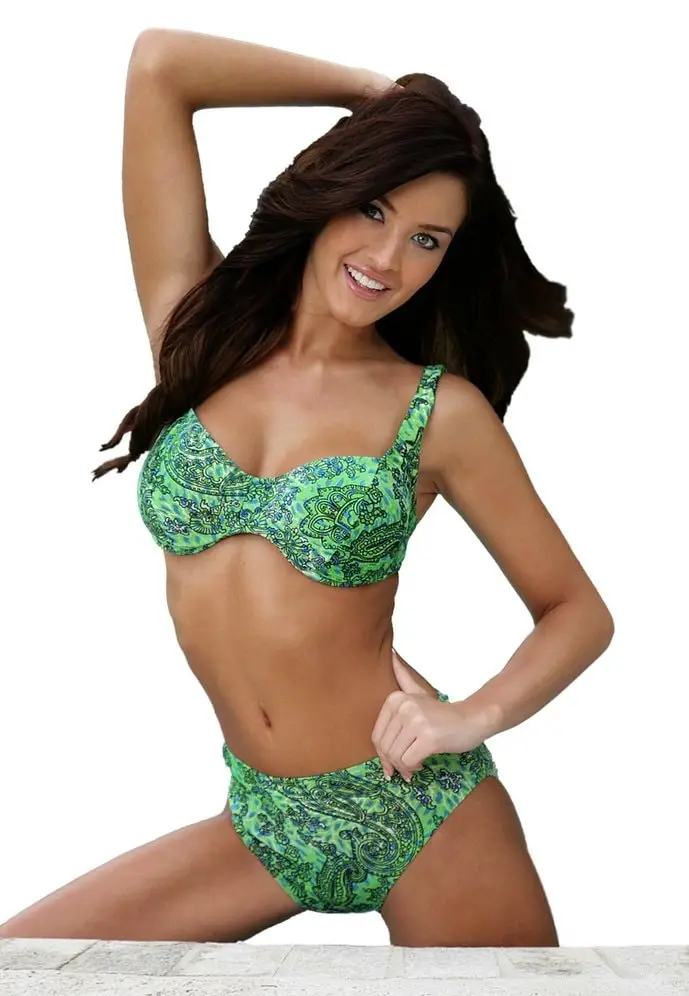 This pretty green underwire bikini is rare because for some reason, tan thru underwire bikinis are rare. If you need an underwire bikini, this one is quality and cute as well!
Tan Through Tahitian Rainforest Bikini
If you're looking for a little more va-va-voom, this next bikini choice is exactly that. The Tan Through Tahitian Rainforest Bikini is a flirty way to get an even tan.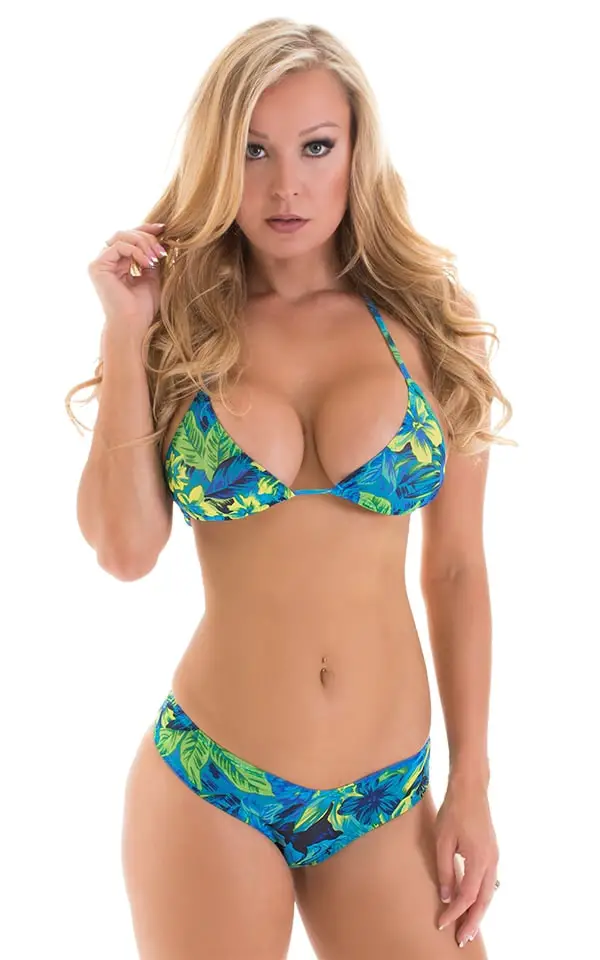 Always tan through, never see through is the motto. This bikini set filters out most UV-B rays while still letting enough sun in to give you a natural looking glow.
Shown in this diagram below, the company demonstrates how their swimsuits keep bad rays out while letting safe tanning rays in.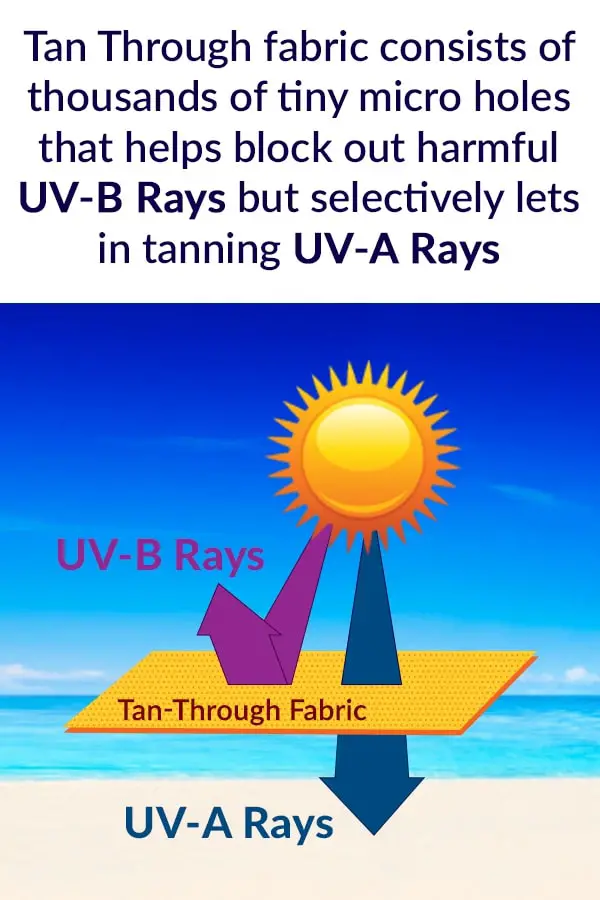 Tan Through Rave Bikini
If you're into the music and lights that come with clubbing, the Tan Through Rave Bikini could be the bikini to wear at your next EDM show.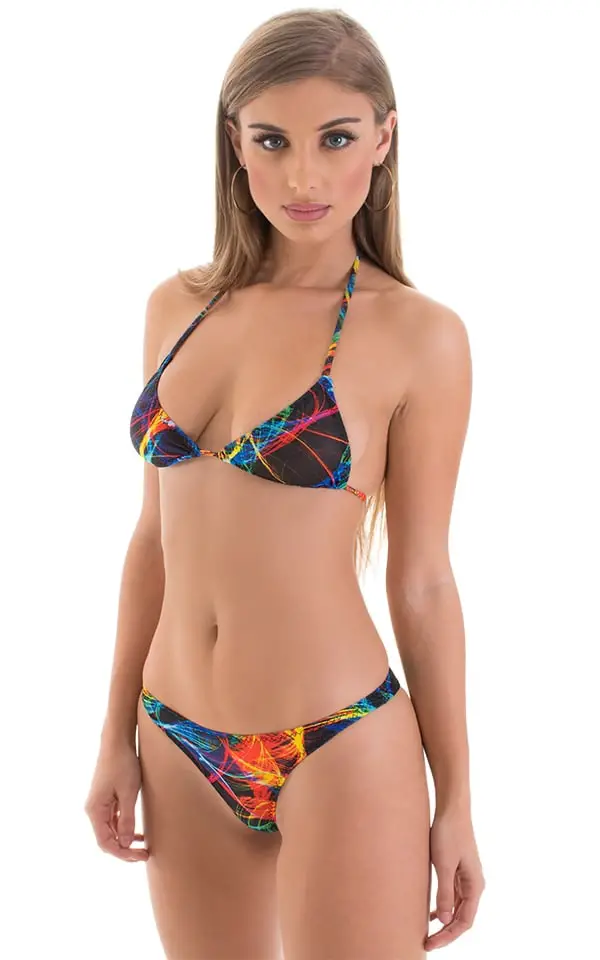 This flattering bikini is made from tan through fabric and is fast drying. It's also dermatologist tested.
Goodbye Tan Lines
Say au revoir to tan lines and hello to a lovely even glow. Any of these choices make a fantastic addition to your summer wardrobe. Don't worry about funky looking steaks that will last the rest of the year. Be as carefree as possible and enjoy the sun!
By the way, remember to always check trustworthy coupon sites like Dealspotr, RetailMeNot, and Offers.com for all your trendy and cute swimwear needs!
/revision 15.4.2018, removed 404 link
/revision 26.10.2018 removed 404 link
/revision 1.5.2020 removed 404 link
/revision 15.11.2020 removed 404 link